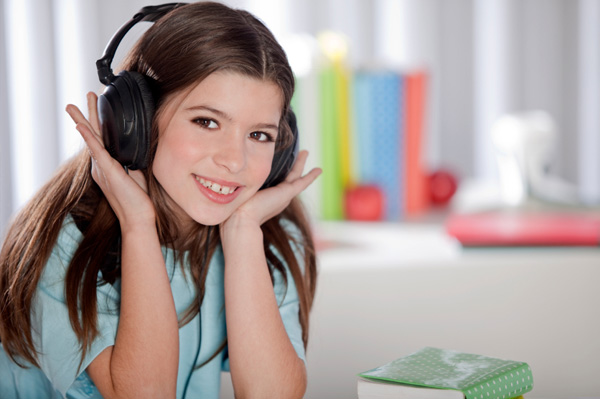 In today's technology driven world, children are influenced by many devices, from the newest tablet to traditional television. The media has fiercely latched onto technology by offering an array of children's music. Turn on a basic AM/FM radio, tune in to satellite radio or stream Internet radio to find dedicated kids' music channels. These vast choices are incredibly influential and important to child development, both mentally and physically.
Age-Appropriate Music
In the past, parents and caregivers had to be extremely careful about turning on the radio for fear of an inappropriate song. Today's radio outlets have specific channels for children's tunes. As long as the channel isn't changed, it's virtually impossible to hear an offensive song. Older children can be given a set of channels to browse through under supervision. With approved channels in hand, children have a sense of independence as they find their favorite songs. Fostering trust and independence as children grow older are important concepts for the adult years. Online and radio music provide several outlets for these concepts to flourish.

The Advertising Component
Regardless of the genre, kids' channels will have advertising. Although this may be frustrating, the advertisers' goals are not covering ages one to 100. In fact, ads are targeted toward children and adults for educational and social games, for example. You may hear about a new app, game or toy that could enhance your favorite child's life through these ads. If you want to avoid them, try purchasing an online or radio subscription. When you pay for specific channels, businesses often omit the ads to a certain degree. Leaning on ads for business income is the main reason you hear them so often. Even radio and online channels must make a profit.
Choose Several Outlets
Leaning on radio tunes to lighten a daycare or home environment is a smart choice, but mix up the channels as much as possible. Try educational songs in the morning to catch children when they're fresh. Even the musical genre should be altered, such as switching from jazz to classical. Loosen up the children with silly songs from favorite television shows or movies. With so many online and radio channels to choose from, children have an almost endless array of song types. You could even add in a foreign language song to make the children think on a larger level than just their neighborhood.
Helping The Developing Brain
Children's minds are emerging in the early years as they make new connections every day. Their actual brain cells are forming neural pathways for more complex cognitive functions later in life. Scientists have discovered that musical interludes throughout the day typically increase neural connections, allowing them to learn more at a faster rate than without songs. Parents can even start online and radio music while they are pregnant. Fetuses are aware of rhythms and beats, giving them a head start in brain development before birth. Continue playing songs throughout young childhood to watch them blossom. From simple tunes to complicated classical songs, you are the child's first teacher.
Brings Kids Together
If you subscribe or simply listen to free radio, set goals for children when they are in groups. For example, ask them to listen to a song and talk about it afterward. These games are fun, but also provide a level of socialization as discussions create friendships and good times. Songs can be silly to generate more conversation for younger children, for example. After the song is discussed, children discover their likes and dislikes, along with learning about their friends' interests. Use different tunes each day to create a social atmosphere that encourages public speaking and communication.
Songs And Learning
Search for a radio or online station that has educational songs. There are plenty of tunes that discuss animals, elements, numbers and letters. Ask children in a group atmosphere to sing along or create their own song based on what they just heard. Learning needs to be fun to be effective, allowing children to build a strong basis for future school success. Asking if a cow says "moo" or reciting the alphabet are simple ways to engage youngsters. Online and radio stations may even have songs you've never heard before, but are wonderful additions to daily listening.
Physicality And Games
Children need to be physical throughout the day. It increases their motor skills and lets off steam. Songs played continually throughout a musical chair game, for example, are perfect ways to introduce new tunes. Online radio is perfect for these games because of their short advertisements. Select a new genre each day while children wiggle, dance and jump around. Along with staying physically healthy, they learn about rhythm in the body and how to move with a song. Even offer child-friendly instruments to the group, giving them the opportunity to play along with the songs. Their minds expand with new experiences that only enhance their schooling in later life.
Turn on the satellite, AM/FM or online radio to browse the channel selections today. There are literally dozens of stations for every age group. You'll find songs that encourage friendships, self-esteem and fun every day.
Summary:
Caregivers have many choices when it comes to kids' tunes filtered through different radio outlets. They choose from age-appropriate songs that educate or entertain, depending on immediate needs. Children's brains use rhythms to form connections in early life, contributing greatly to future success and creativity. By forming healthy social groups, based on musical tastes, kids grow on an intellectual level.